All Things You Should Know Before Travelling to Hau Giang
Hau Giang belongs to Mekong Delta. It borders with Can Tho City, Vinh Long Province on the north, Bac Lieu Province on the south, Soc Trang Province on the east, and Kien Giang Province on the west.
Hau Giang tourism attracts tourists by its idyllic beauty with a picture of a peaceful countryside with rich rice fields, rich canals and a peaceful and quiet life. Coming to Hau Giang. You will fully admire the beauty of the West River. With beautiful nature and heroic historical achievements.
What is the best time to travel to Hau Giang?
The climate in the South is famous for two season. It's divided in to rainy and sunny season. But in Hau Giang the climate is mild all year round. So you can come here at any time of the year. But in the dry season, it is from October to September the next time is the most convenient time to explore Hau Giang.
Transportations to Hau Giang
To travel from Ho Chi Minh City to Hau Giang province. You can consider the following two routes:
Route 1: Starting from Ho Chi Minh City, you go to National Highway 1A, go straight to My Yen to Ben Luc Bridge. When crossing the bridge, you run about 14km more to cross Tan An bridge and run straight through Tan An city and to Tien Giang land. You continue to run straight to My Tho city, then turn right along National Highway 1A for another 65km to My Thuan bridge. From here you continue to go another 33km to go to Can Tho territory, passing Can Tho bridge for another 10km and you have reached Hau Giang
Line 2: You start from Ho Chi Minh City to Binh Chanh. Then run straight to HCM-Trung Luong highway for another 50km. After that turn right down to National Highway 1A, going about 5km further to My Tho. Then from My Tho, you follow the road No. 1 to arrive. Note for route 2 only for cars
With a distance of 240km from Saigon, visitors can completely travel to Hau Giang by private vehicles. Such as private cars and motorbikes. However, tourists who have experience in Hau Giang tourism often choose to travel by bus or private car with diver to ensure safety and do not spend too much energy on the way. That you will have healthy enough to explore tour Hau Giang is more complete.
Travel to Hau Giang by publish bus
To ensure safety and health for the trip, most of you choose to move to Hau Giang by bus. You can easily buy tickets from Ho Chi Minh City to Hau Giang in Mien Dong bus station with an amount of about VND 120,000 / trip. You can refer to some reputable garage information as follows:
Phuong Trang:Route of Saigon-Vi Thanh (Hau Giang), exit at West bus station, phone number: 08 38309309.
Mai Linh:Route to Saigon-Vi Thanh, exit at West bus station, phone number: 08 39393939.
Tan Hong Phuoc:Running Vi Thanh-Ha Tien route, phone number: 711 3876759 – 0989 63613
Top Sightseeings in Hau Giang
Relic of Victory Vu Tam
Located in Thanh Xuan Commune, Chau Thanh A District, Hau Giang Province, Tam Vu Victory Monument is one of the first destinations that tourists can visit when coming to this land. The site was occupied by the national historical monument on January 25, 1991.
Nga Bay floating market
Nga Bay floating market also known as Phung Hiep floating market. This market is located on Phung Hiep crossroad where 7 river routes are Lai Hieu, Xeo Mon, Xeo Dong, Cai Con, Bung Tau, Soc Trang and Mang Ca meet.
Vi Thuy Melaleuca Forest
The next destination that visitors can visit when coming to Hau Giang is Vi Thuy melaleuca forest. With an area of 200 hectares, Vi Thuy forest ecological zone is located in Vinh Tuong commune, Vi Thuy district, Hau Giang province.
Previously, this resort has not been known to many tourists. After being built and developed with many attractive entertainment services, this destination has attracted a large number of visitors.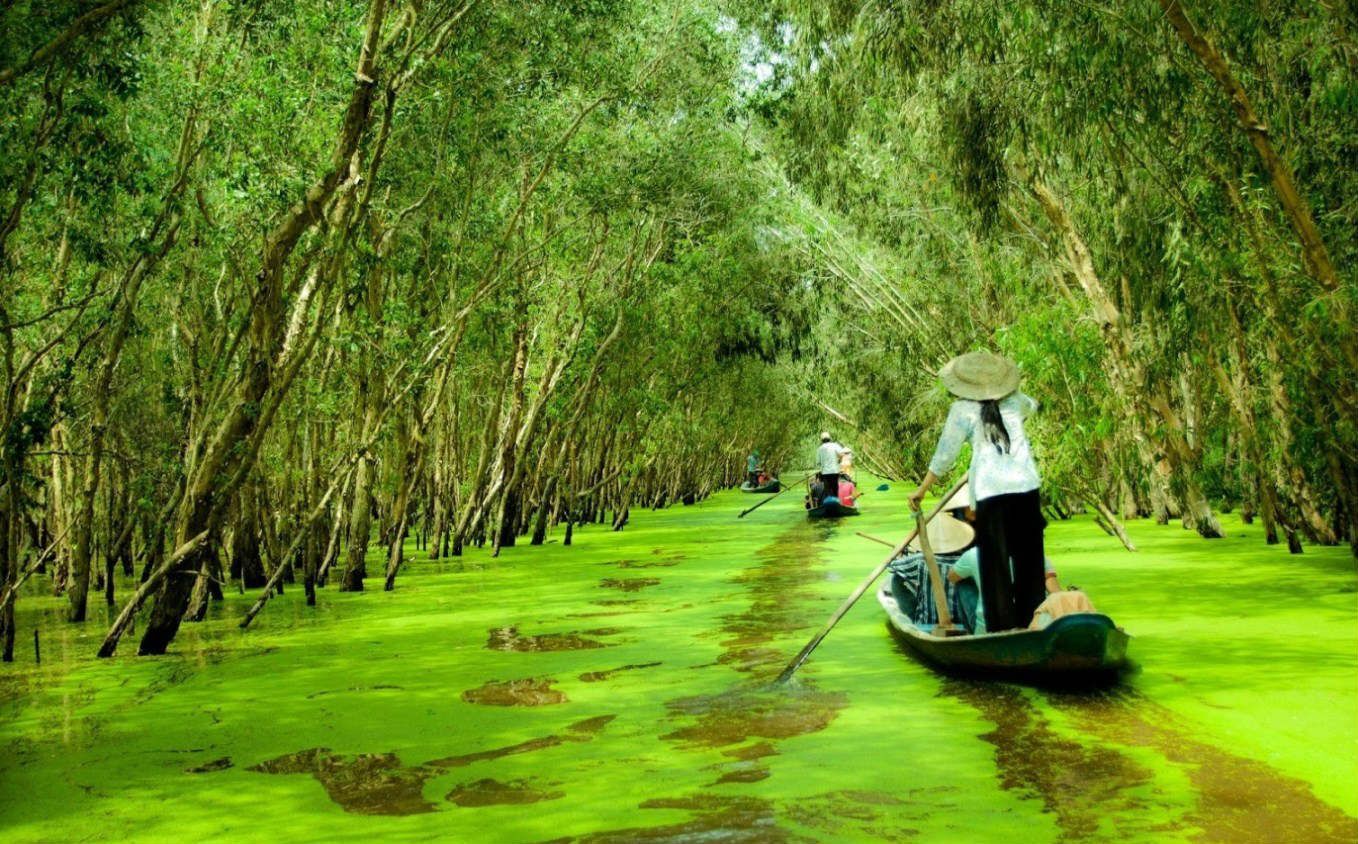 Uncle Ho Temple
Built in 1990, the Uncle Ho Temple is located in Luong Tam Commune, Long My District, Hau Giang Province. In 2000, it was recognized as a national historical-cultural monument.
Since its inauguration, Uncle Ho's temple has become an indispensable destination for anyone traveling to the West and visiting Hau Giang. With an area of nearly 2 hectares, the temple includes 7 construction items. This place attracts many tourists to visit the major holidays.
Lung Ngoc Hoang Nature Reserve
This is a vast floodplain, the Lung Ngoc Hoang Nature Reserve extends from the western Hau River to U Minh. This reserve has an area of 2.800ha. This includes areas such as strict protection zones, ecological rehabilitation zones, scientific experiment areas and administrative, service and tourism zones. It is known as one of the protected areas that is less be intervene by human in Vietnam today.
Kittyd & Minnied Amusement Park
Located in Highway 1A, Tan Phu Thanh, Chau Thanh A, Hau Giang (7 km from Can Tho city center). Kittyd & Minnied Amusement Park Hotel group looks like it came straight from a European fairy tales.