Tran Quoc pagoda is located on Kim Ngu (Golden Fish) island, connecting with Thanh Nien road- the romantic bank separating two beautiful lakes : the west lake & Truc Bach lake. You can take part in a cyclo trip or electrical car with its travel route to this famous pagoda, known as the oldest pagoda & the center of Buddhism in Hanoi.
History of Tran Quoc Pagoda
The pagoda was built during the reign of Ly Nam Đe (541 – 547), and first beared the name "Khai Quốc"(開国 meaning "to start to build the country") . The pagoda was erected in the Yen Hoa village (nowadays renamed Yen Phu) on the Red River's bank.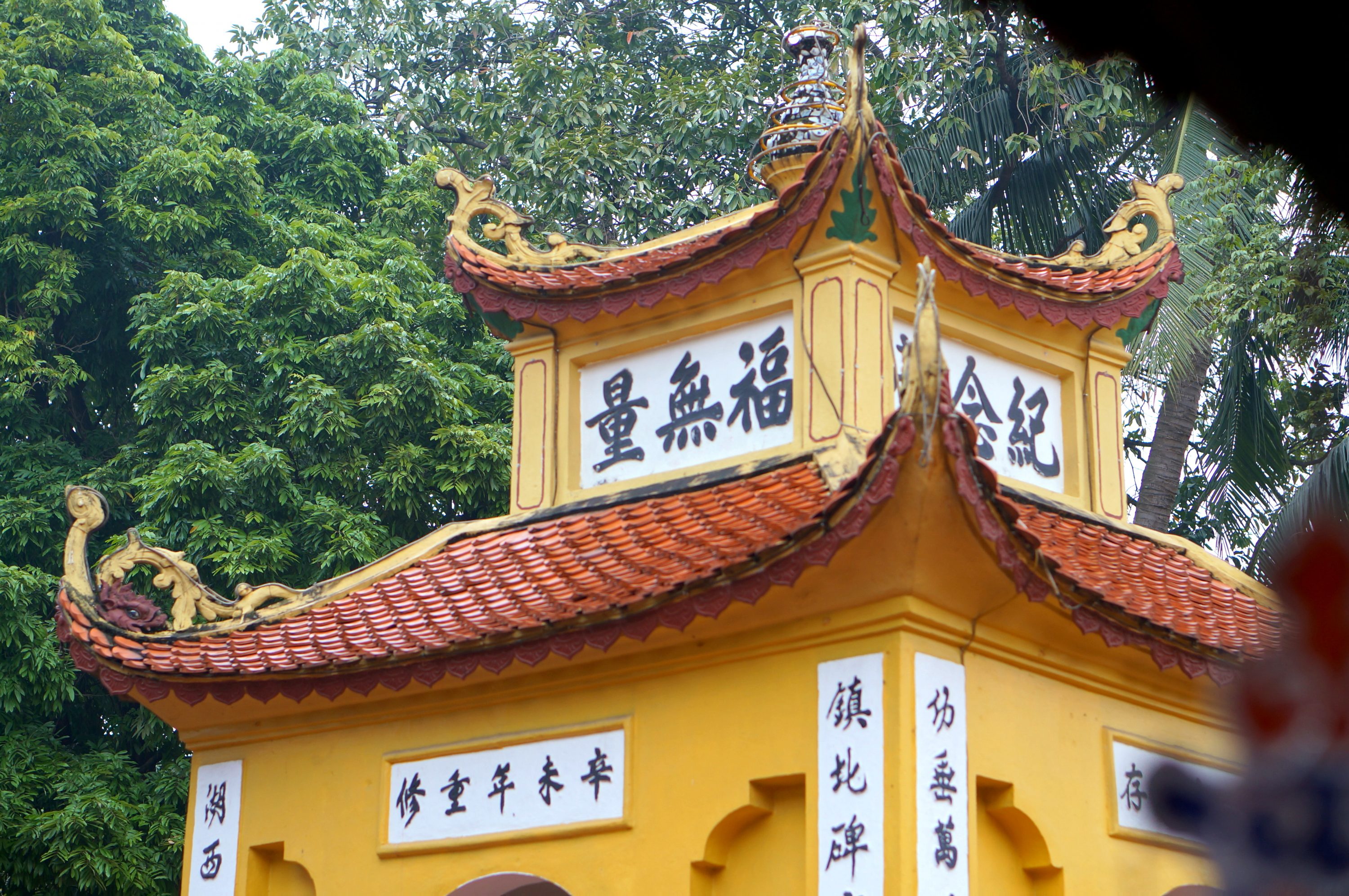 Landscape and architecture of Tran Quoc Pagoda
From Kim Lien Pagoda, my motorbike driver brought me to Tran Quoc Pagoda, which is less than 5 minutes ride away. Even before I came down from the motorbike, I could already see the tall pagoda in the distance.
Walking on the causeway, I could see the vast lake known as West Lake or Ho Tay. Just so that you can imagine the size, the circumference of this lake is about 13 km or 8 miles!
The sight of the pagoda tower right in front of me was quite breathtaking. It is about 15 metres high and has 11 tiers. Each tier is designed to represent the petals of a lotus flower.
OK, let's do a quick math, shall we? Since this six-sided pagoda has 11 levels, how many Buddha statues do you think reside in this pagoda?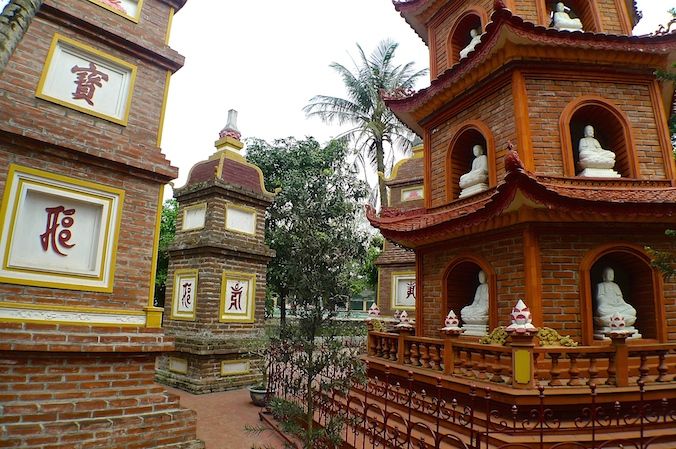 The architectural design together with the ambience of the green trees and lake make a visit to this pagoda very worthwhile indeed.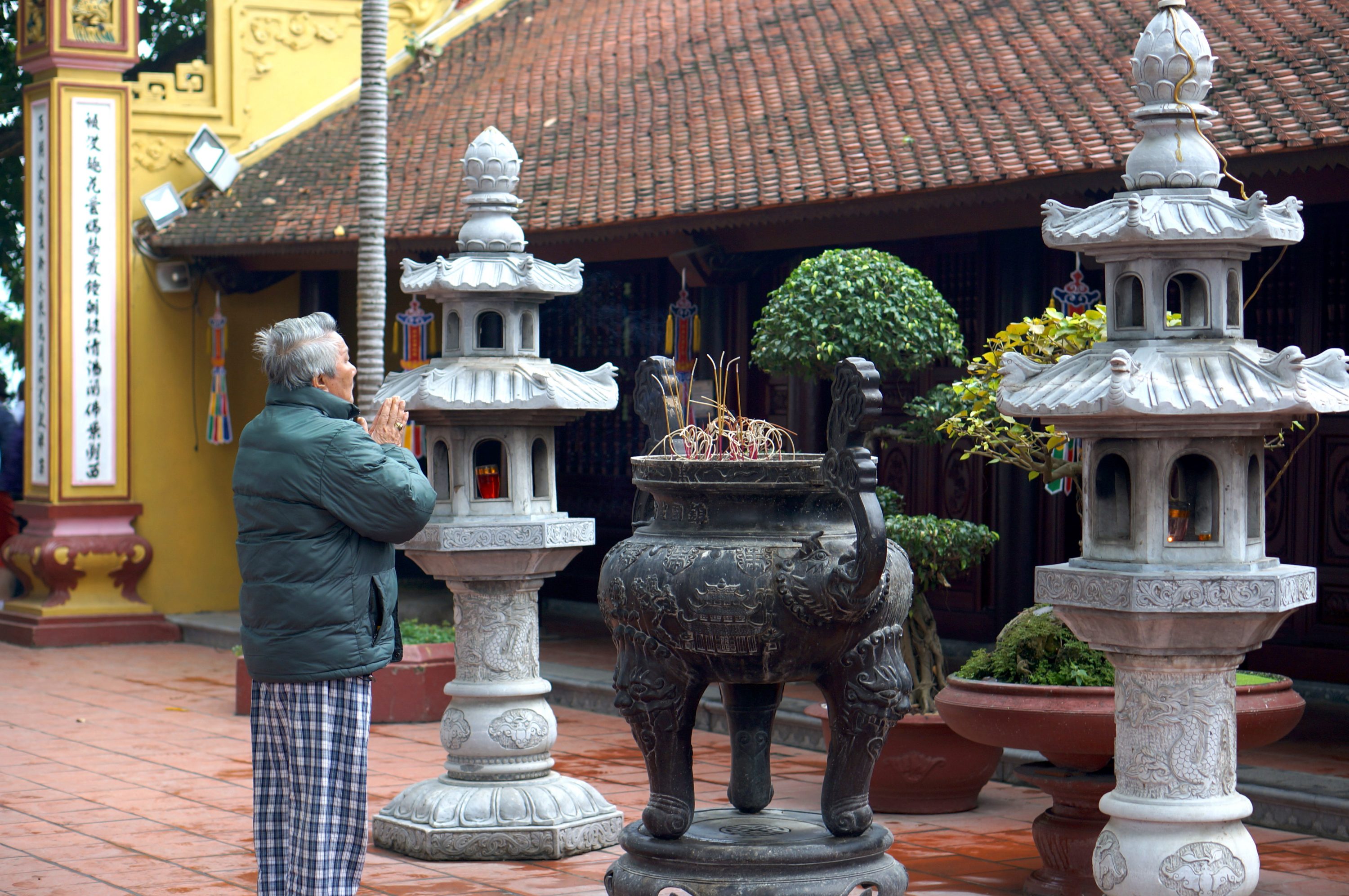 How to get to Tran Quoc Pagoda?
It takes about 15 to 20 minutes by car from the center of Hanoi, about 4km. 
Unfortunately, It is not easy to use the bus to get there. Although the bus stop is in front of the pagoda's gate, local people find it difficult to use this public transport because the route requires two buses. Taking a taxi or Uber might be the easiest way to visit the spiritual pagoda. However, visiting the pagoda on your own means you might miss numerous insights about Tran Quoc pagoda.